Thanks for listening to one of our most popular episodes from Season 1, click the Play button!
In today's short and snappy episode, hear why an entrepreneur believes getting up after a devastating loss is a narrative that's more important than getting the prize itself. She's a female entrepreneur, she's fighting her inner demons, she's fighting sexism and misogyny online, it's Krystal Choo. This is part 1 to a series, check out part 2 here.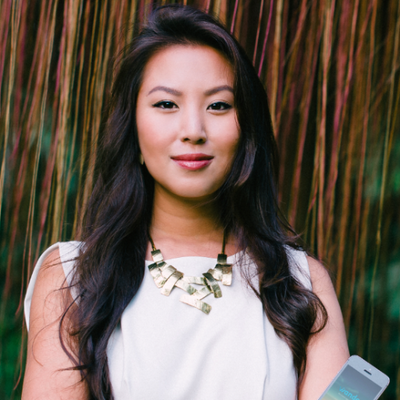 Here's the burning message behind this story:
Just how badly are female entrepreneurs treated in our community? Listen to the key perspective of a female entrepreneur who has experienced it directly.
Do you think that a person's appearance plays a factor in their success?
How do you overcome a devastating loss like failure or bullying?
This is part 1 to a series, check out part 2 here.
Watch the latest TV show in Japan with Channel NewsAsia before COVID-19 hit.
Krystal's Bio:
Krystal Choo is the CEO and Founder of Tickle, and Partner at Neo Sapio.
Best known as a technology entrepreneur, transformative coach and two-time TEDx speaker, she works to correct imbalances in an age of lost connections – at times innovating through technology, other times, a powerful conversation.
As a tech entrepreneur, her vision has created global platforms built on the foundation of connectedness, authenticity and putting humanity at the heart of digital interaction. Her personal mission is to advance human connection in progressively virtual environments.
A featured international speaker, breaking glass ceilings in an industry where only 2.6% of venture-funded businesses are female-founded and led, she is the steady voice for disruption and impact. She trains and consults with the leaders of global companies in the matters of innovative thinking, diversity, self-development, and purpose. Her impact is most felt upskilling women to thrive in the moments that matter, by applying techniques derived from psychology and neuroscience.
Recognised as an influential thought leader, Krystal has been described as one of Singapore's "Most Awe-Inspiring Women" (Cosmopolitan), "the Gritty Entrepreneur Singapore Needs" (E27), "A Triple Threat" (High Net Worth), awarded as one of Asia's 50 Women Leaders, chosen to front SK-II's global "Change Destiny" campaign with over a million views online, and named LinkedIn Power Profile 2015-2018, in the CEO category.
If you're interested in building a marketplace in Singapore, curious about how one person stands up against online bullies, or you want to hear an inspiring story of overcoming huge hardship, this podcast episode is for you.
One person in Singapore who strikes me as an individual who has had an unfairly high amount of online abuse is Krystal Choo, she is a famous female entrepreneur here in Singapore who upon first glance you have to objectively admit is very beautiful. Haha ok hold your horses, she has a boyfriend, but beyond that, she also faces a lot of online criticism for just being who she is, and that is a female entrepreneur who's trying, like the rest of us, to hustle for a better life for herself.
If I was Krystal Choo, I wouldn't be this cool, I would have had multiple breakdowns, I would have changed my personality, I would have shied away from public, think about what you would do if there was an online forum that existed for the sole purpose of just writing degrading comments about you. Of course, you would use the internet less and try to explore your real life more, if you could take a break from checking that forum, maybe blacklisting it from a website that you're allowed to view. I mean if it were me, I would have broken down.
Once upon a time, the internet was a hurtful place, it was a place where many people's hopes and aspirations were shot down by overly critical and harsh comments by completely anonymous people. Every day, people left the internet feeling more negative than they were before, and eventually one day, they started to write hateful comments. Because of that, the internet became a breeding ground of hate, bigotry, and dehumanized our very sense of self. Until finally, The internet was treated like a bar, if you come in and act rude or you're too drunk, you were kicked out. That's my dream for maintaining a respectable place where people can come, have fun, maybe flirt and dance a little bit, and then leave safely after having a good time. But someone needs to put that sign up on the bar, you know, the one that says, if you misbehave you'll be kicked out. Until then, welcome to World War 3, where a cyber-bomb has gone off on the internet.
Thanks for listening! The greatest compliment you can give me is to recommend this podcast to colleagues, family and friends. Share a comment through email or Linkedin and let me know what you think, I'm constantly trying to improve the content in this podcast for you. 
I'm also looking for my next tv show after I recently hosted my last tv show on Channel NewsAsia about the latest business trends in Asia. In this show, I flew to Japan to uncover the e-sports industry with a crew and fixer, and we dove deep into the Esports industry. I learned a lot about myself and about how to host a show. You can check it out here, it's an hour-long and we met with a lot of interesting characters along the way. I'd love to know what you think.

Host Biography:
Host's Bio:
At 20, I took a break from my law degree to co-found my first startup, Beeconomic, which was fully acquired by Groupon (a record-breaking buyout in Singapore after just 6 months according to The Straits Times).
As Groupon Singapore co-founder, we created over 200 jobs and made history by helping Groupon become "the fastest-growing company ever" (-Forbes and CNBC). After Groupon, I worked on 4 startups that failed, which taught me important lessons about failure.
After finishing my law degree, I joined a "Top 5" law firm in Australia that led to an offer in their M&A advisory practice.
I was then recruited by Hong Kong's biggest English newspaper, The South China Morning Post, as the social media editor to execute a digital transformation strategy. When the team achieved strong digital growth, Jack Ma's Alibaba acquired the newspaper. After 6 months of transitioning and training with the new owners, I moved on to pursue my passion for cooking.
After culinary school, I became a full-time advisor for a $100M Japanese VC, a highlight is our $1M investment into a fast-growing, millennial-focused news platform.
I have served as a consultant to Governments and 80+ tech firms in Southeast Asia, but for early-stage startups, I also volunteer as a mentor at an incubator. I am an entrepreneur who knows exactly how it feels to be guide-less and isolated. I've met a lot of kind people on my travels who were willing to help me and this is my way of paying it forward.
Spending my spare time volunteering in charities, mediation, cooking, and working out are my passions. Channel NewsAsia shot a 2018 TV documentary called "Millionaire Minds: Chris Chong" featuring my latest (failed 🙁 ) startup and featured me as a guest host on their show "The Millennial Investor" before COVID-19 hit. I'm looking for my next job (like everyone right now), if you know of any TV hosting opportunities, then do please reach out.
If you liked this episode, check out our most popular interview from season 1 with the co-founder of SGAG and MGAG, Karl Mak.
If you liked this episode, check out my own 'origin story' as one of my guests turns the mic on me and grills me on my startup background (or lack thereof).
Music Attribution (CC/Royalty Free)
Mellow Clap – Free Royalty Free Music For Commercial Use
UPBEAT Audiobinger  Mountain Top
Scott Holmes – 04 – Teamwork
Audiobinger – About Last Night
"SUNBIRDS"  by BOCrew
Coriolis Effect by logos (c) copyright 2010 Licensed under a Creative Commons Attribution license. http-//dig.ccmixter.org/files/Mseq/26296 Ft- stefsax
Whisper by Robbero (c) copyright 2014 Licensed under a Creative Commons Attribution (3.0) license. http-//dig.ccmixter.org/files/Robbero/44803
"another one"  by grapes
KidRico – Smooth Sailin Instrumental
Audiobinger – The Garden State
Benedek – 11 – Dial My Number
GOOD Audiobinger – Catching Feelings
UPBEAT Anitek – 10 – Destination
Audiobinger – China Town
---